Update – $5,041.73 was raised for the Greene County Animal Facility by the Amazing Race for Charity Greene County.  There were many sponsors involved.  This included a $1,500 match from Kari Sanders of Modern Woodmen and $500 from the VFW from their breakfast that morning.  Thanks to the teams and those who came to cheer them on!  See more info:  AmazingRaceforCharityGC
Adam Pedersen and Nikki Uebel, 2019 Amazing Race winners
The second annual Amazing Race for Charity was held Saturday in Jefferson.
There were 18 two-person teams that signed up to compete in 14 physical, mental and artistic challenges. Finishing in first place was Team Twins, with Nikki Uebel and Adam Pedersen, with an official time of 2-hours and 9-minutes. They were separated by two minutes from second place finishers, Mike and Jeri Cunningham. Pedersen talked about how tight the end of the race was.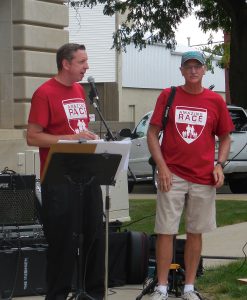 "Oh man, that's exciting. It was kind of the middle we were in the hunt, and there was a big group, and I didn't really notice until the last couple (of challenges), I was like, 'Oh man, I think we can do this. We just need to keep moving.' Nikki just pulled through the whole way. Wow, it was amazing on how much she was just gutting it out and chugging. It was really cool."
Uebel said Pedersen was a new teammate for this year's event.
"Shout out to my teammate from last year, Sue Sherlock, whose home wishing us luck. Well I love that it's (the Amazing Race for Charity) is for a great cause, but it's also a ton of fun. I did last year and had a blast and so I definitely knew I was going to sign up for it this year."
All the proceeds from the fundraiser will go toward the construction of the new Greene County Animal Facility. Spearheading the event was Ian Wilkinson and he said each team got to pick being a dog or cat, which for one of the challenges, the competitors either had to eat dog or cat food. Wilkinson added this fundraiser gave people an opportunity to have unique experiences through the different challenges.
"I mean how many people can say that they could get a chance to go into History Boy Theatre, and learn a routine, and get up on stage and do a dance. We wanted to really give the community a chance to get outside the box as far as giving them some adventure, giving them something new that they haven't done before. And just giving them a day of fun."
Third place was Julia Saul and Kassie Lamoureux with a time of 2-hours and 15-minutes, and fourth place was Andrew Michaelsen and Karen Showman with a time of 2-hours and 16-minutes. To make a donation to the Greene County Animal Facility project, make checks payable to the City of Jefferson and earmark it for the animal facility and drop it off at Jefferson City Hall. See the full list of challenges below.
List of challenges
1st challenge: Name that tune from the bell tower
2nd challenge: Shoot basketballs, ride an exercise bike and do sit-ups and push-ups at the Greene County Community Center
3rd challenge: If a team was a dog, they had to run and catch frisbees like a dog. If a team was a cat, they had to balance a golf ball on a 2×4 piece of wood and walk the length of the tennis courts at Russell Park
4th challenge: Teams had to answer several questions at the Gallup House
5th challenge: One team member was blindfolded and had to fill an empty container on their partner's head with water. It also took place at Russell Park
6th challenge: Teams had to assemble a bird house at Sally's Alley
7th challenge: Bowling and darts at Spare Time Lanes
8th challenge: Put together a puzzle and identify the olympic symbol on the Thomas Jefferson statue at Thomas Jefferson Gardens
9th challenge: Eat either wet cat or dog food at the Depot
10th challenge: Face-painting each teammate at Art on the Fly
11th challenge: Answer questions about three movie trailers at Sierra Community Theatre
12th challenge: Duplicate a flower arrangement at Fudge's Flowers and Gifts
13th challenge: Learn a dance routine and perform it for judges at History Boy Theatre
14th challenge: Find specific books at the Jefferson Public Library