Scarecrow Invasion~Time Warp Edition
October 1, 2019

-

November 1, 2019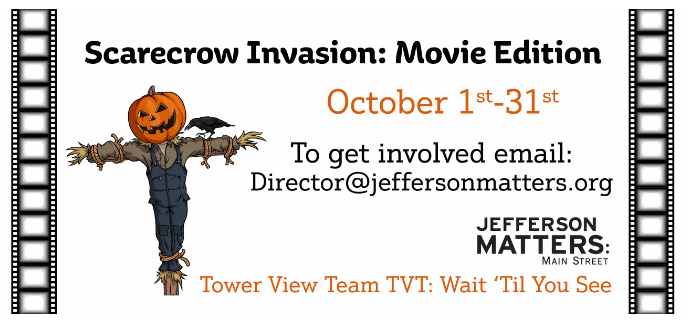 Get ready for an invasion – a Scarecrow Invasion!  The Tower View Team would like the community to participate in this new, fun, and creative installation for the month of October.
For this first year, the theme is Scarecrow Invasion – Movie Edition, so scarecrows should be dressed up as your favorite movie character or characters.  Think Scarlett O'Hara from Gone with the Wind, John Wayne from True Grit, Darth Vader from Star Wars!  The committee would like to see a wide variety of scarecrows so think outside the box.   Participants are asked to supply their own materials for the scarecrows.
In order to coordinate locations in the Main Street District, the TVT asks that an email is sent to director@jeffersonmatters.org with name of contact person, the movie character(s) planned, and any preference of location.  The scarecrows can be sitting, standing, hanging around on the perimeter of the square and beyond the next few blocks.  Through the email communication, locations will be determined.  The committee will attach a sign on each scarecrow with the sponsoring name.  Angie Gingery and Amy Roberts are co-chairing this event along with support from the members of the Tower View Team.
The scarecrows should be set in place on the evening of Monday, Sept. 30 so on Tuesday, October 1, residents and visitors will experience this SCARECROW INVASION in Jefferson's Main Street District.  The scarecrows will remain in place until November 1.  The Tower View Team expects to draw extra visitors during the month of October through this project.
A Facebook Group page called Scarecrow Invasion~Movie Edition will have posted pictures of the scarecrows with the opportunity for voting.  The popular vote winner will be awarded a trophy during Trick or Treat Around the Square on Thursday, October 24.
Tow