https://www.raccoonvalleyradio.com/2019/06/06/corteva-accenture-announce-debt-free-rural-iowa-scholarship-program/
The Greene County Courthouse was the site of a major announcement made by Accenture and Corteva Agriscience.
A new Rural Iowa Scholarship program will allow 25 students from 39 rural communities in the "Lincoln Highway Corridor"-communities within Jefferson, Boone, Perry and Carroll-to apply for essentially full-ride scholarships in software development. Corteva Agriscience, Pioneer and Dupont's new name following its merger, pledged $187,500 to the pilot program, which will be handled through the Des Moines Area Community College (DMACC) Foundation and their computer languages program. Accenture recently purchased the software development company Pillar Technology, and they are continuing to push forward on completing The Forge in Jefferson and keeping their promise to develop a training program and hire up to 30 employees who will make $75,000 to $80,000.
Corteva Agriscience IT Digital and Platforms Lead Jim Alcombright talks about why they chose Jefferson and Greene County as the central point for this new scholarship venture.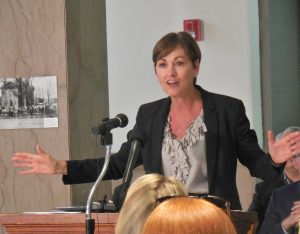 "Our partnership with Accenture and the Rural Forge is an idea that spoke to us. It's one that we feel as though in partnership with Accenture we can leverage, we can feed (the pipeline) properly, and it fits the area. And it also fits our customer and consumer base, as well as the growers. We're very close to the farm community. While we could go to bigger cities for it, we have opportunities there obviously, the rural community is the one we're based in and it's the core of our business so I think it's a good fit."
The Tech Interactive, a non-profit company from Silicon Valley that does hands-on Science, Technology, Engineering and Math (STEM) programs, announced that they are helping Greene County School District staff to develop ways for students to become innovators at younger ages and to get them interested in areas such as agriscience. When they get old enough to attend the career academy, they can take classes in those specific areas. The career academy in Jefferson is slated to be completed by the start of the 2020 school year.
Governor Kim Reynolds and Lieutenant Governor Adam Gregg were also on-hand and made remarks during the event on Wednesday. Gregg told Raccoon Valley Radio Jefferson is starting to become a rural community leader.
"Well I think Jefferson really becoming an example for our state and even our nation on how we can have rural revitalization in our small communities. And it begins with things like connectivity, and local leaders, and coming altogether. So I think Jefferson is just a great example of that."
For more information on the scholarships or what communities qualify to apply, click the link below. The scholarship applications will be available starting July 1st.
https://www.dmacc.edu/foundation/Pages/ruralforge.aspx